Choosing the right platform to host your virtual event is the most important technical challenge you will face when organising your event.
It can be very confusing which platform to choose in a highly competitive market. Just look at the competition on Google for "Virtual Event Platforms"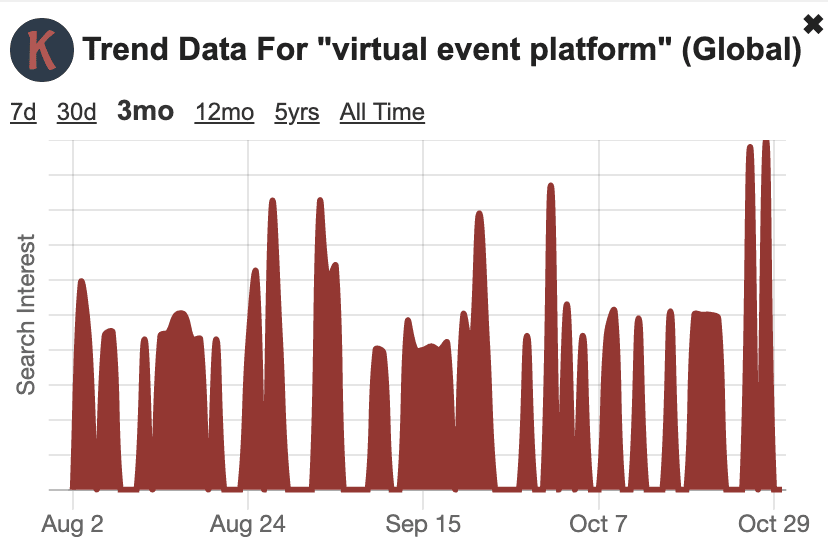 It can be very easy to get sucked in by marketing promises of seemingly "cool" and all-inclusive features. However, before you choose think very carefully about what is important for your event to be successful before jumping into contracts with virtual event companies.
If these platforms make sense for your virtual event, then you will have a successful one. But for those without the budget, or have invested in online video conferencing platforms such as Microsoft Teams, Zoom, Cisco Webex etc. Why can't you use those existing investments for your virtual event?
The answer summarised is that they lack the attendee experience wrap that makes a virtual event an event and not a business meeting.
Fundamentally, Teams, Webex, Zoom etc. all have the core components you need for your digital content and networking elements of your virtual event.
What they lack is an intuitive event experience that connects them to attendees. This is why many think their event needs a dedicated platform.
[Justattend allows you to use your existing online video conferencing solution or streaming service to host digital your content and use Justattend to provide the event experience.]
Let's take a look at what Microsoft Teams has to offer event organisers.
Microsoft Teams Features for Virtual Events
Microsoft Teams is cloud first enterprise collaboration and communication platform born from decades of experience in enterprise communication. It is ideally suited to event organisers looking to deliver live and interactive content to their attendees.
1. Microsoft Teams is FREE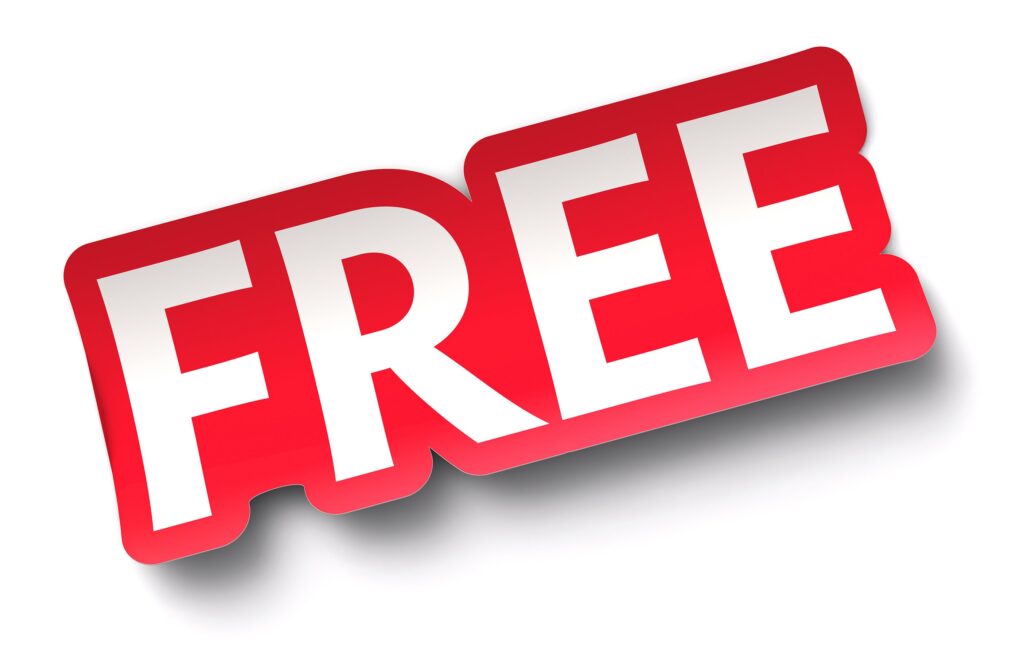 Microsoft Teams has a free version that is available without a trial and can be the perfect choice for some event organisers looking to run a professional conference on a limited budget.
The free version allows unlimited online meetings for up to 250 participants per meeting with a 24-hour duration.
Compared with Zoom's free meeting offering which is limited to 100 participants and a maximum duration of 40 minutes per meeting and Cisco Webex of 100 participants and 50 minutes, what you get with Teams is exceptional value.
The free version of Teams is ideally suited to the virtual event that wants to produce live content where the speaker and attendee are connected in real-time.
If you are looking for recording, on-demand or production level such as transcription features, you will need to upgrade to the paid version of Teams.
However, this isn't as daunting as it might sound. If done right, you can run a fully featured Teams event for thousands of attendees for less than £20GBP.
2. HD Audio and Video
There is nothing worse than joining an event and experiencing poor quality video or audio. For attendees to get the best out of your event, they need to be able to see and hear crisp audio and video.
Teams uses highly sophisticated codecs that are optimised for the internet. They are able to produce high definition video up to 1080p and full HD stereo audio that is pleasant for your attendee's eyes and ears.
In addition to these codecs, Teams uses the power of the cloud and artificial intelligence to reduce background noise effects. This is super important in the current climate where speakers are not in sterilised production studios, but at home with lots of sound distractions. Watch the video below to hear the difference!
This is an important feature as it will help you with post session video editing if you are producing on-demand content. Remember, whilst the live audience will be forgiving to background noise, the on-demand viewer will not.
3. Virtual Backgrounds
A big hit for 2020 in the online video conferencing space is virtual backgrounds. With remote working being the only solution for many, maintaining the professional look has been an important consideration for businesses. For others, it injects a little bit of humour or fun into the video meeting.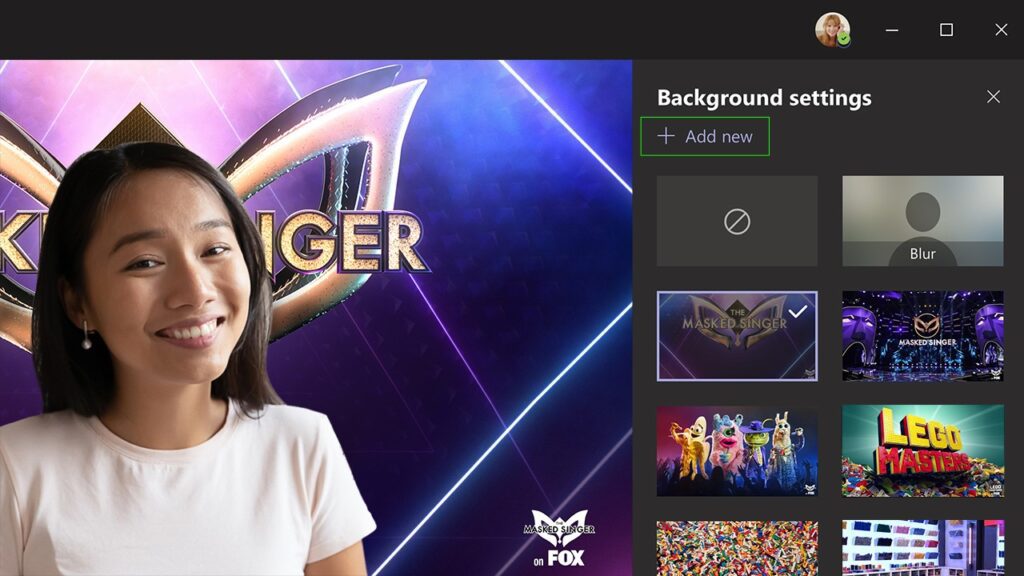 Virtual backgrounds work by using artificial intelligence baked into Teams that recognises a person amongst their surroundings. Then overlaying the custom background image between the person and their physical background, thus replacing it.
Microsoft Teams does this well and anyone can do this without the need for studio lighting or green screen equipment like other competing platforms.
Not only does this provide your speakers with a level of confidence and privacy, but it is a great opportunity for you as an organiser to introduce an extra level of branding and professional production into your virtual event.
This is available in both the free and paid versions of Teams.
4. Better Together. Help Your Attendees feel connected
One of the biggest challenges organisers of virtual events face is how to make attendees feel connected to each other and the event. After all, being able to share an experience together is what a conference is all about.
Online sessions shouldn't all be PowerPoint presentations, involving the attendees in the visuals as well as the discussion is an important ingredient to the secret sauce that will make your event a success.
Showing the attendees that they are not alone is a valuable stimulus that makes your virtual event more engaging.
Microsoft Teams offers you two ways to achieve this with their different gallery modes.
3 x 3 Mode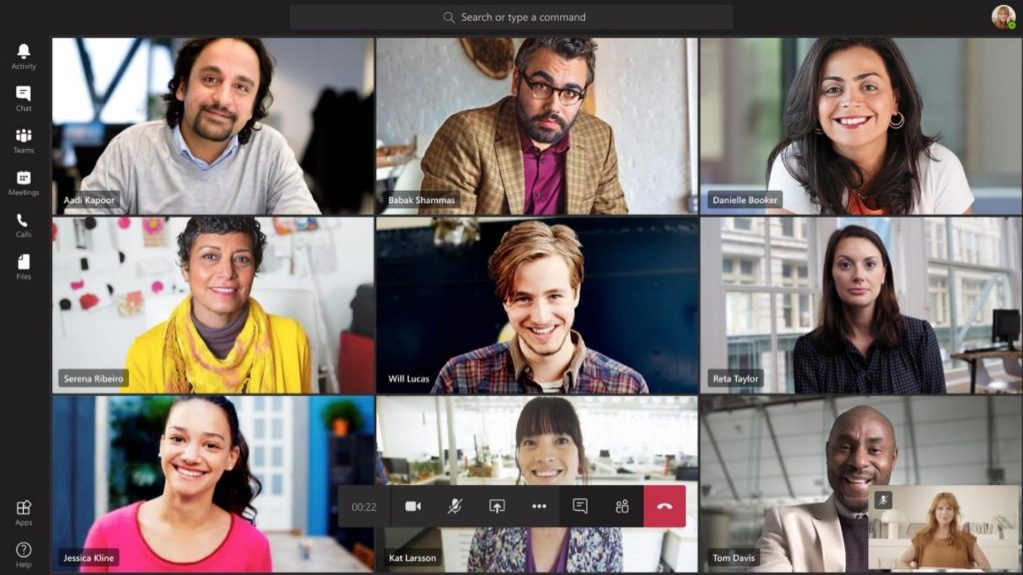 Large Gallery Mode (49 video tiles)
For those where 9 is not enough and need 40 more… This is an awesome layout for those social networking sessions that promote free conversation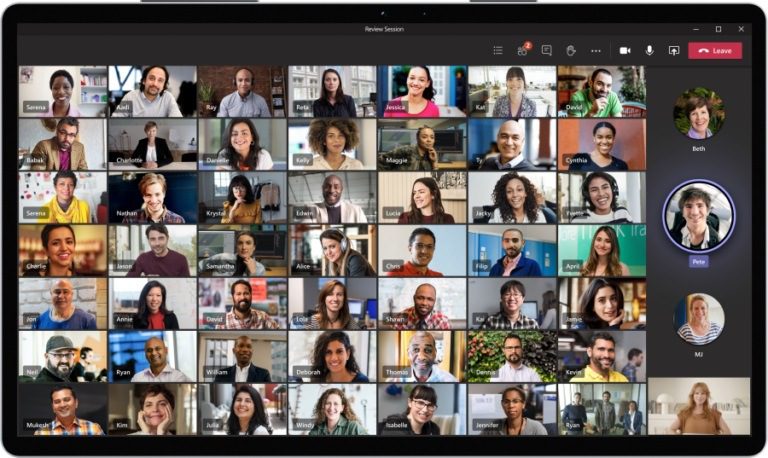 Together Mode
Together mode puts attendees side by side in a virtual space like an auditorium that helps to reduce fatigue, but also makes it easier for attendees and speakers to judge engagement.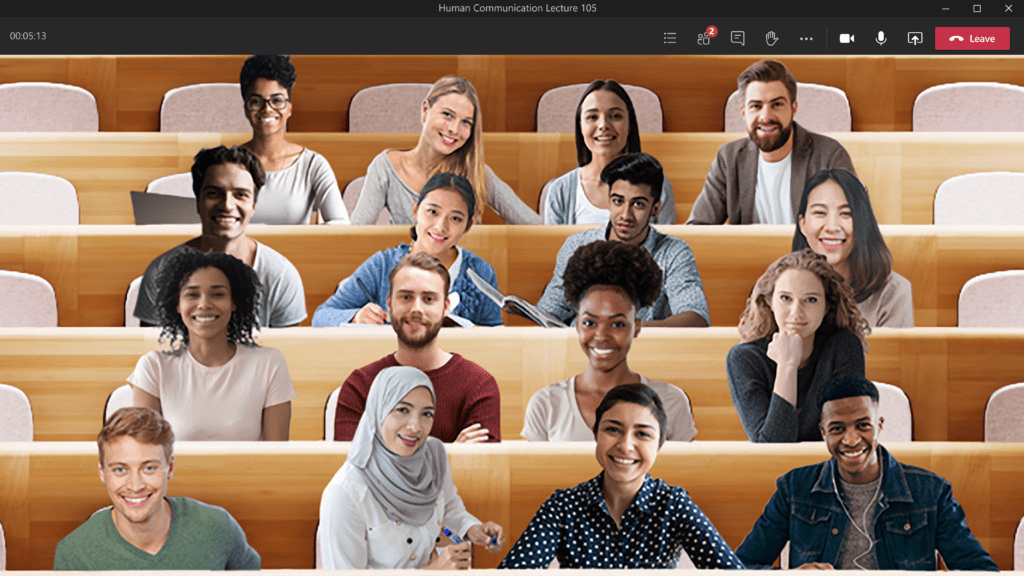 Together mode is built to give people the impression that everyone is looking at the entire group in a big virtual mirror People's brains are used to being aware of others based on their locations, and the mirror effect makes it harder for the brain to notice eye contact irregularities. Those are some of the qualities that make it easier for everyone to tell how they are responding to each other. Source: Microsoft
Speaker Spotlight
It's not all about the attendees though, your speaker and their content is important. The last thing you need whilst in the presentation is active video switching to change to a random unsuspecting attendee. To prevent this, Teams has video spotlight where you can force one video stream to display to everyone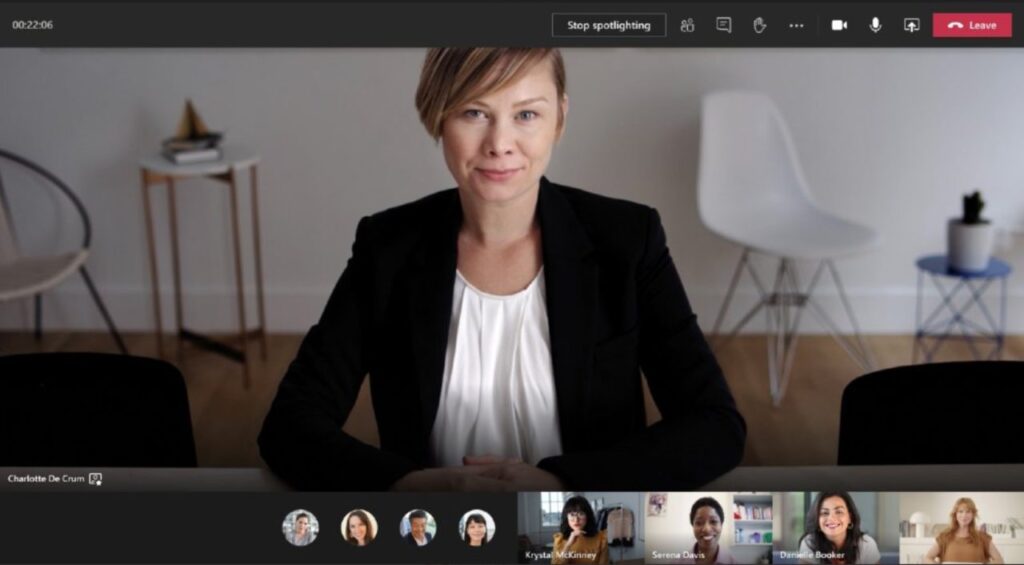 5. Desktop Sharing with Audio
The session demo is synonymous with conference presentations. After all, what speaks better than showing someone the thing you are describing.
Being able to do this virtually can bring an added dimension to an otherwise plain presentation. Using Microsoft Teams a speaker can present their screen or even just an app in full HD.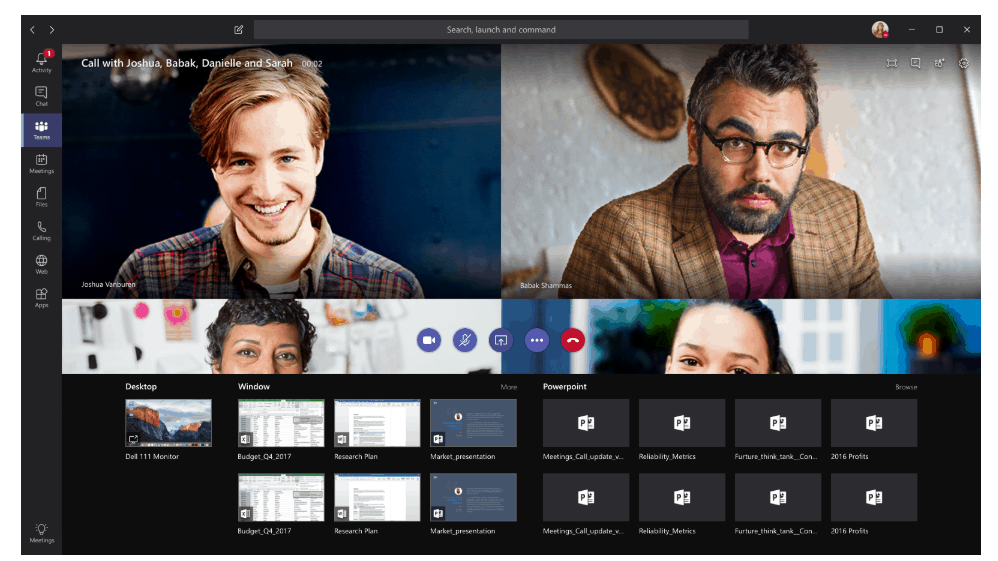 For the longest time desktop sharing in video conferencing solutions has lacked the ability for the presenter to include their system audio. Until now.
Microsoft Teams now allows presenters to share their screen and include their system audio.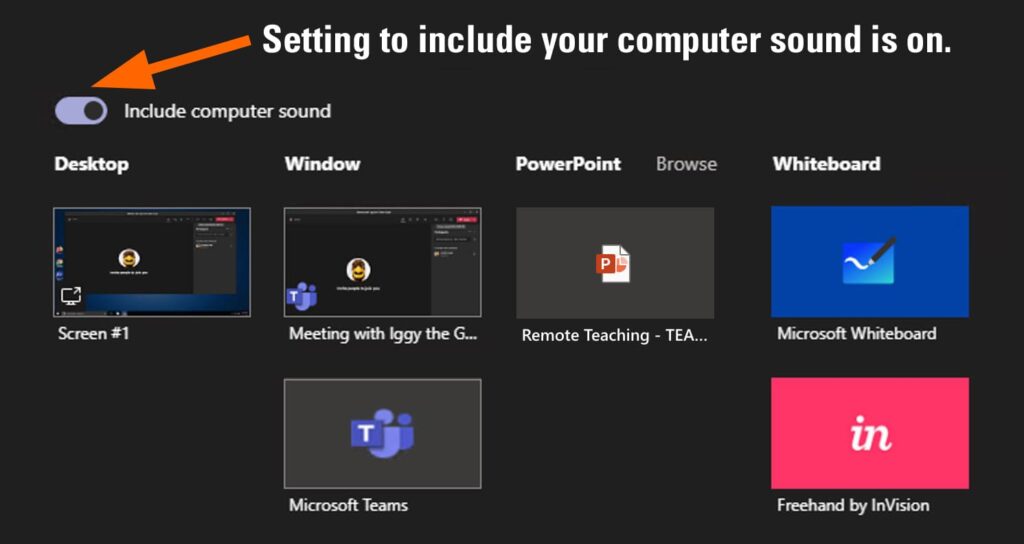 This offers your speakers and your event a level of demo functionality previously unheard of. This allows the speaker to pre-record their demos for more consistent attendee experiences and also demonstrate solutions that need the audio element for attendees to really understand the point of the demo.
6. Attendee Control & Engagement
Microsoft Teams is packed with features that allow you to control the attendee experience and also prevent them from unintentionally hijacking your virtual event.
Presenter & Attendee Roles
Included in Teams is roles based participation in meetings. By default, you can prevent guest joiners from being able to use certain presenter controls that could derail your event such as desktop sharing, or removing people from the meeting.
This reduces the admin overhead for you and stops unintended consequences from accidental or inquisitive mouse clicks.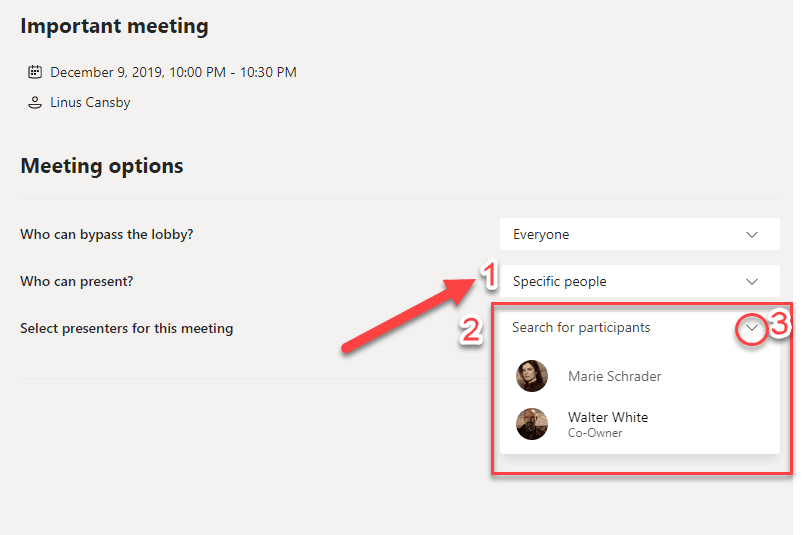 Mute and Remove Options
As a presenter or moderator of the meeting you can control people's microphones and remove people if necessary easily. There is nothing more distracting than an inconsiderate attendee.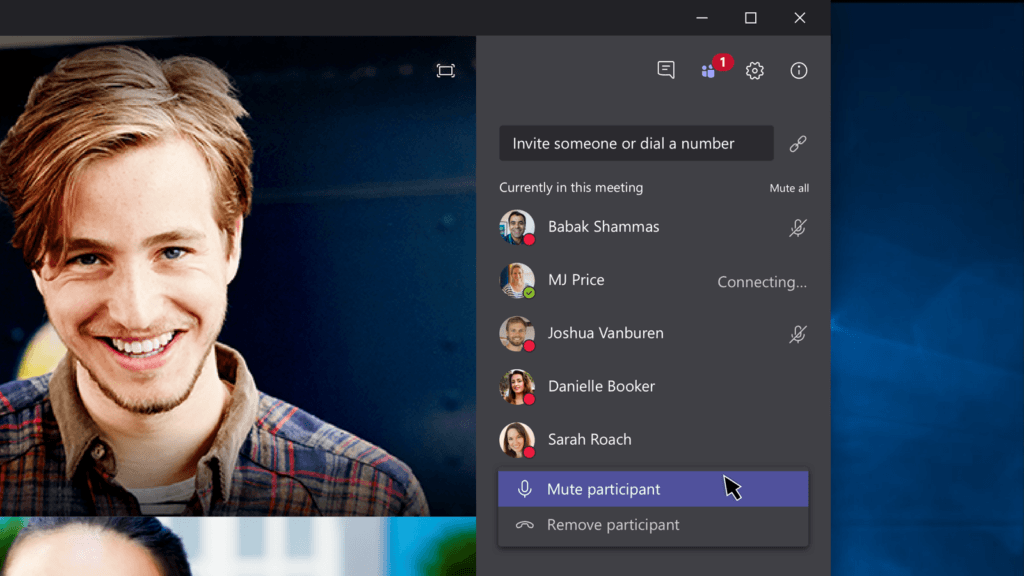 You can also go one step further for some sessions if you want and prevent the attendee from unmuting their microphone at all. This can be great for controlling the presentation element of your virtual event and when combined with the raise hand feature, as a moderator you can control audience Q&A.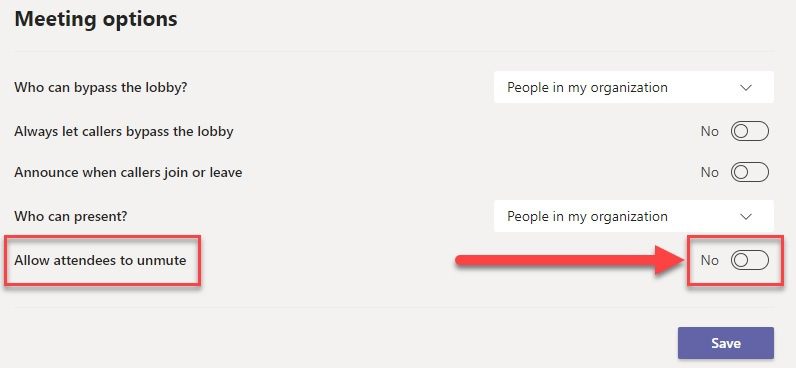 Raise Your Hand
How do you control attendee questions and answers in a meeting of hundreds of people? More to the point, how do you identify those with a question?
Microsoft Teams has a simple feature called "Raise Hand". When pressed by the attendee a hand icon is shown next to their name in the attendee list. As a moderator you can then unmute each one and invite them to ask the speaker their question.
This helps keep the virtual event structured and organised.

7. Studio Quality Live Streams
Online meeting formats are great for some virtual events, but what about for those who want a little more control around the production?
Online Video has taken off and more and more people are becoming more proficient at producing presentations that we would only see normally on the television.
Features like picture in picture or more dynamic and smooth transitions between segments using a mixture of software such as OBS and devices like Stream Deck are becoming commonplace and bring a professional quality to your virtual event.
Microsoft Teams NDI
NDI or Network Device Interface allows you to include remote inputs into your video stream within Microsoft Teams. You can connect different webcams, microphones, and displays to construct a multi-dimensional video production that will delight your attendees.
NDI has been around for a while, but recently introduced into Teams as standard.
Live Events
Microsoft Teams also has a different type of online meeting called a Live Event. A Teams Live Event differs from a standard Teams meeting because it can support up to 10,000 simultaneous live streams with on-demand playback.
As a result, many of the Teams meeting features are missing and the attendee is limited to watching a live stream with text based, moderated Q&A support. The experience is similar to watching a Youtube live stream .
There are many advantages of choosing a Teams Live Event over a standard Teams meeting, but it does depend on your virtual event format.
Live Events are suited for presentation or program broadcasts like a Keynote or news desk.
Live Events also have the ability to use external encoders that allow you to connect TV studio streaming equipment using RTMP to broadcast professional grade shows in a consistent format for ultimately flexibility.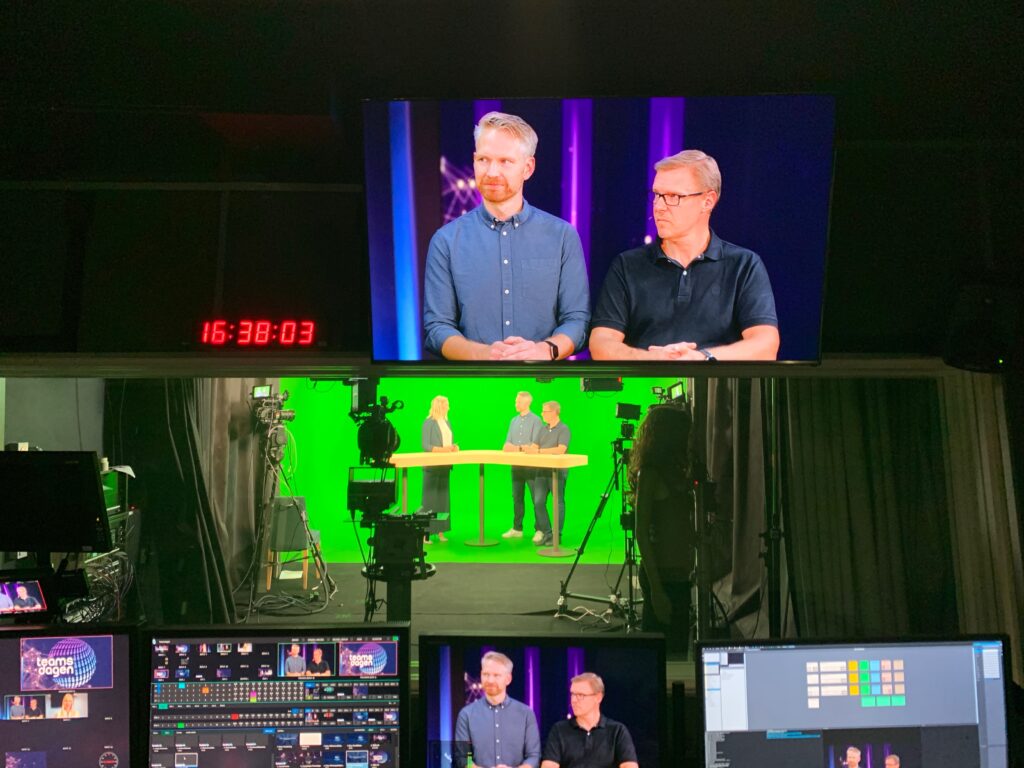 Teams Dagen, a community tech conference used Teams Live Events with RTMP & Skype TX to the MAX!
8. Accessibility
Accessibility is a necessity for virtual events, to help everyone attend and enjoy your event. With previously localised conferences now having global reach, being able to include everyone is important.
Microsoft Teams has many features that make accessibility for people easier than ever:
Live Transcription into multiple languages using Azure Cognitive Services
9. Device & Client Agnostic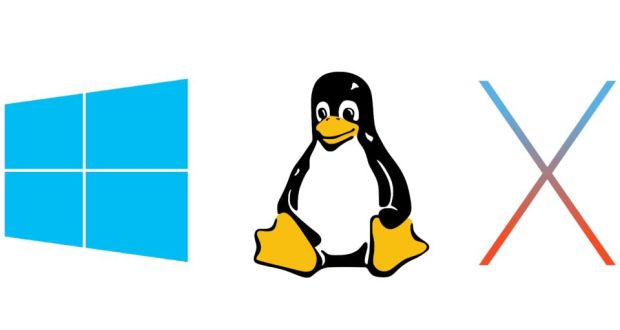 There is nothing more off putting to an attendee than having to install a piece of software on their computer to join an event.
Some attendees machines might be controlled by their organisations IT department that prevent installation.
Having a virtual event platform that doesn't require a client installation is almost mandatory when it comes to online events.
Microsoft Teams is completely agnostic and can function with or without a dedicated desktop client. Browser join is perhaps the biggest advantage in Teams' arsenal of features that allow a fully featured attendee experience directly from a modern web browser (Chrome, Edge, Internet Explorer).
Not only that, but attendees are also mobile and being able to participate in your virtual event no matter what device they are using, including their mobile phone is important.
Microsoft Teams is current supported on the following platforms
Windows 8+
MacOS
Linux
iOS
Android
No Login Required
Another benefit of using Microsoft Teams for your virtual event is to access either meetings or Live Events, your attendees do not require a login.
Next to software download, login credentials are the biggest barrier to successful attendee join.
On average the average open rate of e-mail based communication is between 15-25% and the click rate to "more information" or "please click here to complete your access benefits" call to actions is more like 2.5% according to Campaign Monitor research.
Therefore, if you are requiring your attendee to login to your event, 75% of them will struggle to find their details or access the event, which will in turn put them off joining altogether.
Not only that, but you run the risk of technical challenges at join time if there is a problem with your authentication solution.
A quick search across social media suggests this is very common for virtual events.
Microsoft Teams allows one-click join experiences without requiring them to login or confirm e-mail addresses. This means as a virtual event you eliminate these problems and provide your attendees with the ultimate joining experience.
One of the top reasons why virtual event platforms require login is so that they can produce attendance reports or access control.
We believe there are better ways to do this and using our platform in conjunction with Microsoft Teams you can still have all the access and data you need as an event organiser without complexity being placed on your virtual event entry criteria that will ultimately lose you attendees.
10. Intelligent Reporting & Data Analysis
Reporting is an integral part of a virtual event to determine its success. Microsoft Teams includes reporting statistics to help you determine these factors.
Attendance Reports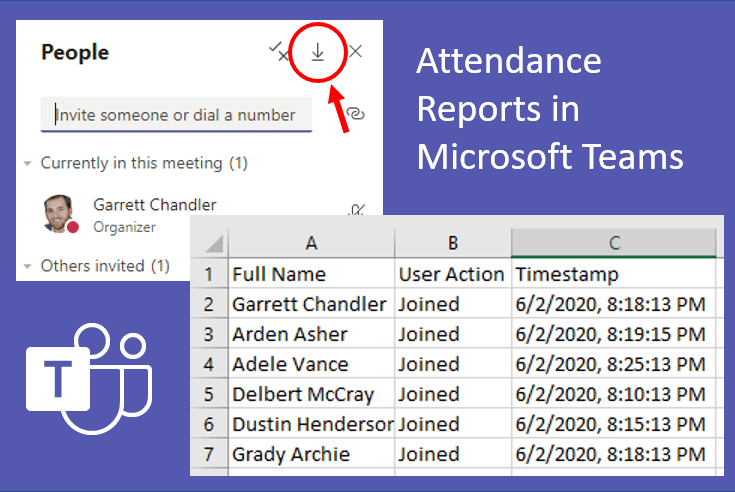 Microsoft Teams now includes attendance reports for both Live Events and Online Meetings so that you can download and see who attended each session and their duration.
With public meetings / events some of these reports will be anonymised and may contain display names that cannot be tracked back to an attendee. Using Justattend eliminates this limitation without compromising the attendee experience.
Event Usage Reports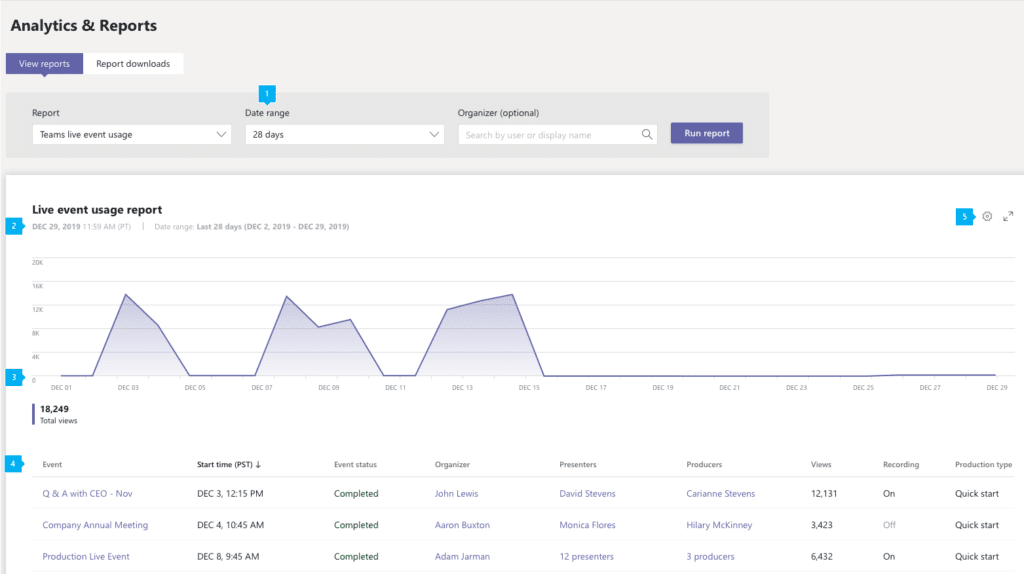 Track how your virtual event performed, which events where better attended including view statistics.
Download Reports and Recordings with Subtitles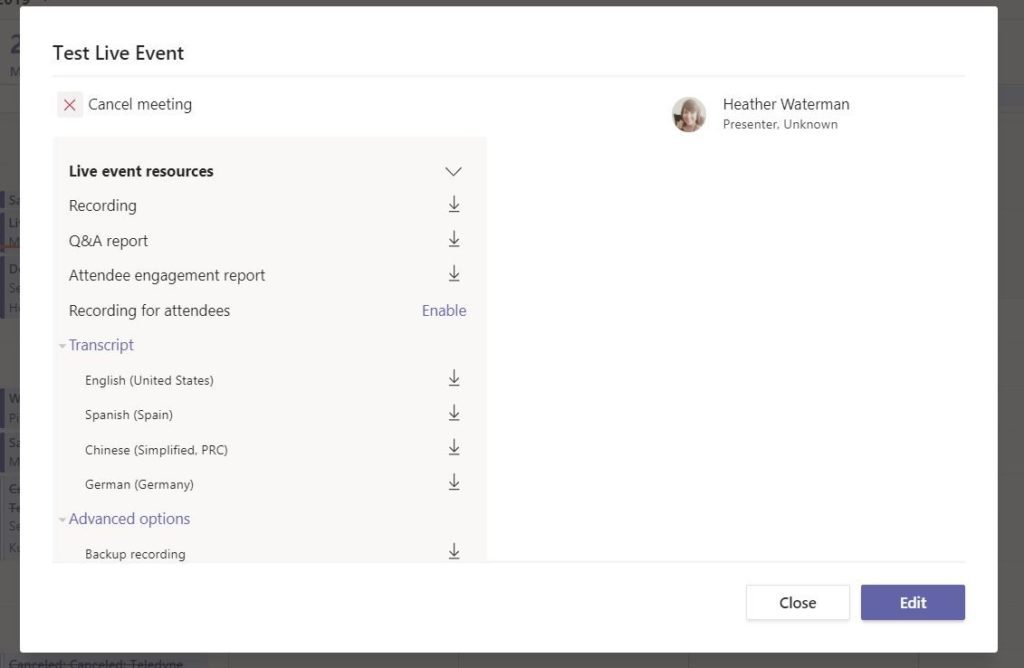 Download the event Q&A report for publishing online as well as downloading the virtual event recording complete with subtitles you can upload straight to your video sharing platform.
Community Inspired Intelligence
For those running multiple sessions in their virtual event, Stuart Rideout from Microsoft has produced a stunning free resource based on Power BI that will give you complete event overview statistics as well as per session and per attendee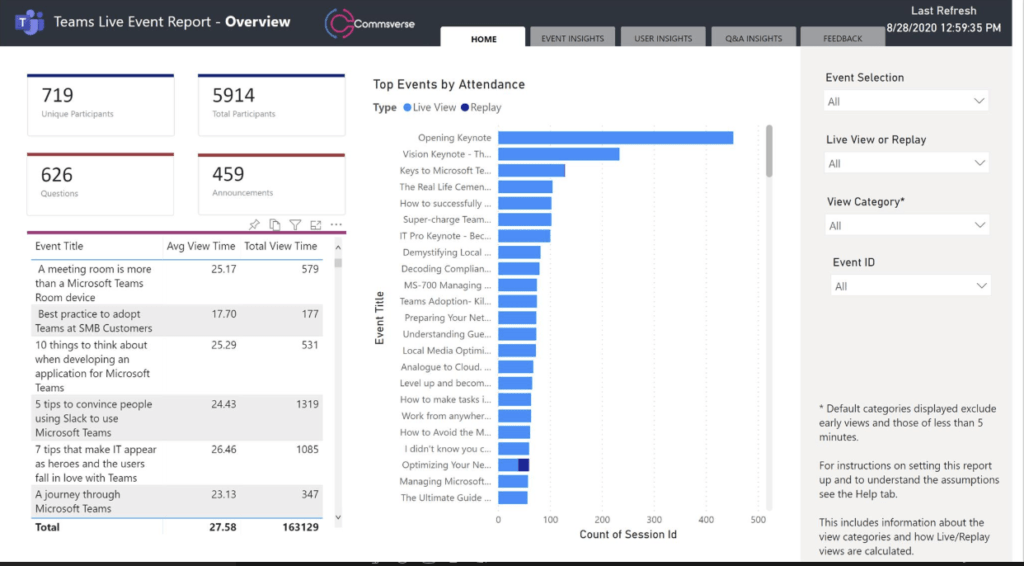 ---
So there we are, our top 10 features of Microsoft Teams that are useful for virtual event organisers.
If you are inspired to run your next virtual event on Microsoft Teams and would like to know how Justattend can make your event feel like a virtual event and not a bunch of online meetings or videos, please let us know your interest below