So, you're thinking of organising a virtual event and the big question on your mind is "How long should a virtual event be?"
In this article, we will discuss the different types of formats, what attendees are looking for and the constraints they feel that will ultimately determine the optimum duration of your virtual event.
We have organised small and large virtual events and using our extensive experience, we want to share with you our secret that will guarantee your virtual event will be well attended and successful.
So, How Long Should A Virtual Event Be?
To answer this, we need to first break down the question. There are typically two models for a virtual event.
A single, 1 session event. Commonly known as a webinar
An online conference with multiple sessions which is synonymous with the term virtual event.
So the question really becomes, "How long can I keep my attendees engaged in a session?"
To answer this question, you need to understand your attendee's behaviour and environment. With physical events you have captured their time and concentration. They are all-in and therefore, you can easily schedule 60 minute sessions without too much concern about losing people.
Virtual events, the attendee has different challenges to overcome. Distraction and boredom set in quicker as they have multiple temptations to take them away from the session. So as their behaviour changes, you should adapt your session to suit.
We have run different sessions lengths and seen this in action. Our first event we ran 45 minute sessions across the entire event. Our data analysis showed that our average watch time across 200 sessions was 27 minutes.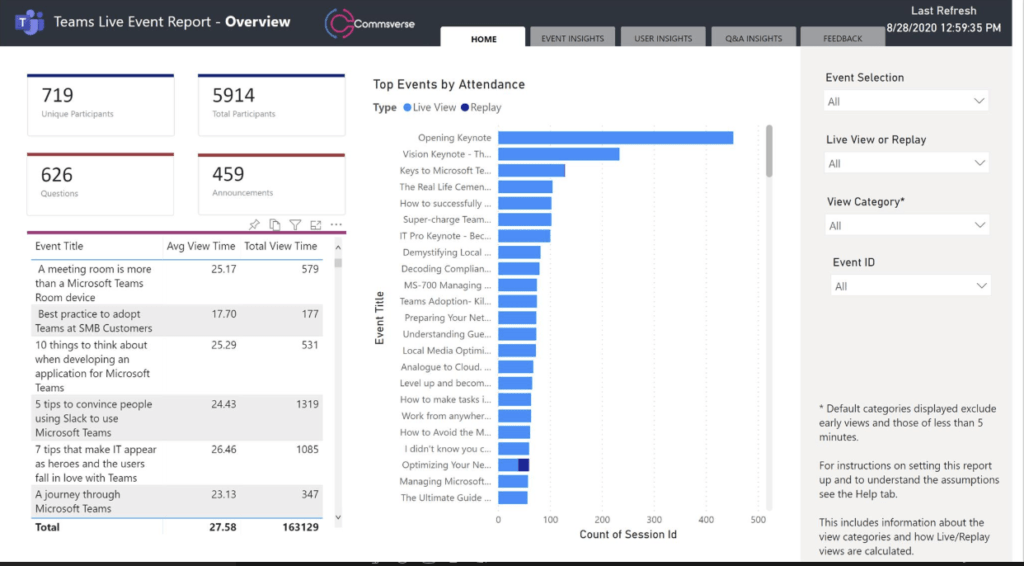 To give you an idea, Commsverse as an event that ran globally for 3-days straight, 24 hours a day with up to 5 sessions every hour. The event attracted over 2,200 registrations with just 719 people actually making the effort to join. Attendance is another topic and if you'd like to learn how to boost yours and avoid mistakes we made here, then check out this article on how to boost your event attendance.
It's not just us, this post from Smart Insights tells a similar story.
Now, don't think you have the answer to your question. Just because it seems that the average watch time of a session is between 25 and 30 minutes you have the secret recipe for success. It's more complicated than that.
Virtual Event Duration is linked with content quality
The average watch time of a session is directly linked to the quality of the content on offer within it. If you have a great speaker who actively engages with the audience, involves them in their session, backed up with a well prepared presentation, then the average watch time will increase.

You can see here in this example, that Bill was really engaged in sessions 100 and 102 with 105 and 50 minute stays. However, he joined another session in the day 111 and 20 minutes in, he had enough and left.
If you looked at attendance figures for session 111 for everyone who attended the majority lasted between 19 and 22 minutes.
This data actually gives you better feedback on your event than just session feedback surveys. You might receive 10 feedback surveys giving 5 star reviews of the session. This is a great boost for the speaker, but if their session attracted 50 people, and 30 left 20 minutes into a 45 minute session, then perhaps the sessions didn't resonate with your majority audience, or perhaps after 20 minutes the main points of the session had been conveyed enough that people "got it".
Variation is key to holding an audience
The type of content offered and the variation of it across your entire event will also impact your decision on how long your virtual event should be.
Consider if your virtual event is 10 sessions long, each session 30 minutes in duration, scheduled back to back. Every session was a different way to die by PowerPoint, would you sit there for 5 hours and watch your event?
I think not.
The key to holding your audience in your event is to offer them variation. By variation, that is session format and also interludes and interjections that stir the pot and wake them up. It is important to keep your audience interested and engaged.
Consider mixing your sessions up, sessions that engage the audience in questions and answers, games or quizzes, or even open microphone sessions can really give the attendee the encouragement and enthusiasm to stay in your event.
You can run engaging raffles that can be instantly drawn, or competitions that encourage attendees to stick around. If you are looking for a good raffle platform built for an online audience, then check out our free raffle website, swagit. Swagit is a brilliant little tool, simple to use and setup that attendees love. We have used it to massive effect at our events and we even have attendees jumping out of their chairs!
Don't top load your event
It can be tempting, but don't start your virtual event with all your big name speakers stacked at the beginning of your event. If you do this, you will see a big surge of attendees right at the beginning of your event that will fall sharply once the heavy hitters have done their thing. Your objective is to keep attendees in your event as long as you can.
Therefore, stagger your big names throughout, this way you will get more consistent a positive numbers across all your event.
The Attendees Time is most precious
This is important. There is no getting around it, and your event will not be any different, guaranteed. Your attendee's time is their most precious resource and the most difficult one you'll ever come across to steal.
People just do not attend virtual events like they would with physical. This is because they find it hard to dedicate and justify their time for a virtual event over the "day job".
A recent poll I conducted across my LinkedIn network clearly identified dedicating time to virtual events is a significant challenge.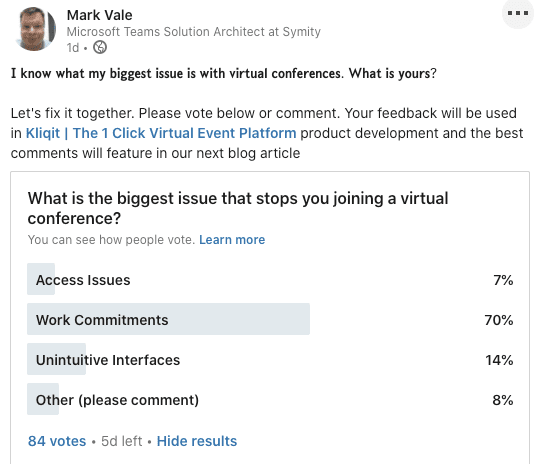 This is backed up in some of the comments people left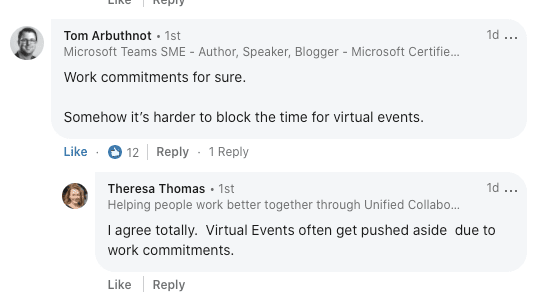 Adapt your virtual event to help your attendees
There is nothing in the rule book that says your event must run 9am to 5pm on any given day. It is a virtual event, it doesn't have physical limitations like venue hire.
After our event, Commsverse, we took what we learnt and remodelled how we do virtual events now. Yes, Commsverse was a spectacle for those who joined, but there is no getting around it, we got hurt on turn out. 719 out of 2,200 registrations attended, that's just 32% turnout. For the amount of effort we put in the return for us was disappointing.
So we dusted ourselves off, took a look at what we could do to improve and set to work on a new model of attracting good numbers of attendees to our virtual event.
We realised time availability was the major determining factor, so we decided that we would scrap the "all day" conference and pinpoint focus on one session, one hour on one day and we would do this with regular cadence.
Our Talking Teams event is laser focussed on one topic at a set time that we promote and market.
The idea is simple.
We have 2,000 people on our Commsverse mailing list. To try and get all 2,000 people to attend a single event at the same time is impossible.
Combined with the time constraint, different people have different interests. They might attend a virtual event only for two or three sessions that are relevant to them.
If we offered a virtual event that was dedicated to one topic, for a manageable duration, say the average business online meeting duration (1 hour) then we would attract good numbers of interested people in that event who are more than likely to turn up, but more importantly, stay connected.
If we offered a virtual event that was dedicated to one topic, for a manageable duration, say the average business online meeting duration (1 hour) then we would attract good numbers of interested people in that event who are more than likely to turn up, but more importantly, stay connected.
We put this theory to the test and launched our first micro event. The topic, VoIP in Teams. We created a mail campaign and social advertising and invited people to register. Without much effort, we scored total number of registrations 283 with 119 of those attending (42.04%).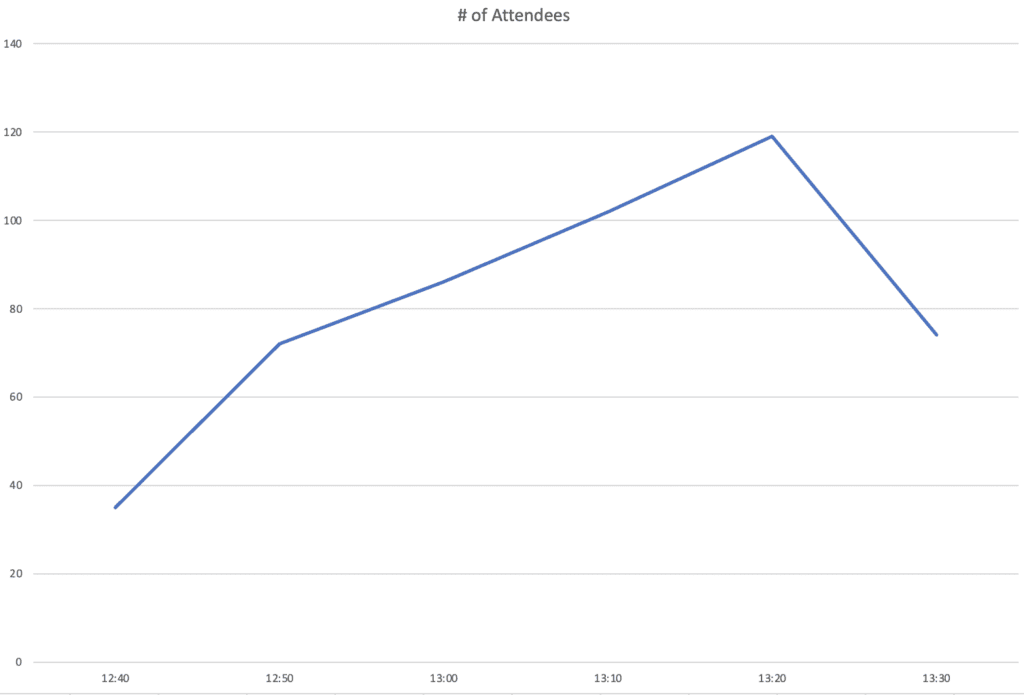 Our second event was a different topic, it focussed on meeting rooms and appealed to a different cohort of our attendees. We still saw good numbers on registrations of 250, with a turn out of 102 (40.8%)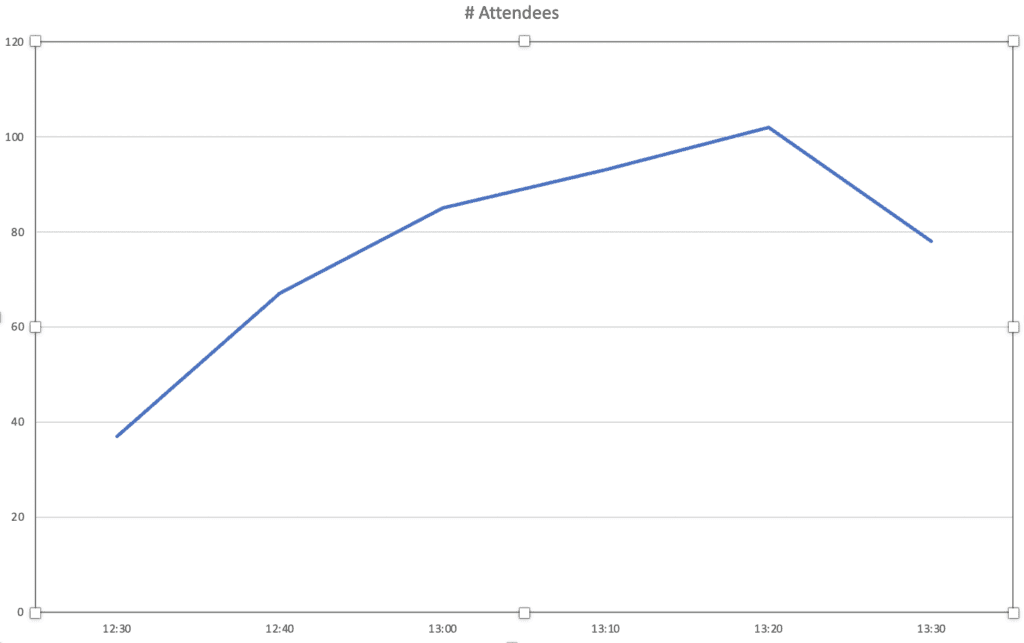 As you can see, by changing the way we operated as a virtual event we were able to attract a decent number of really interested attendees and achieved a third more attendees actually turning up vs our all in one conference.
So, How long should a virtual event be?
The answer is, there is no bulletproof formula that will get you a perfect score. However, you can use what we have learnt to help you evaluate your event to determine how long should a virtual event be. Here is our list of recommendations
The question is not how long a virtual event should be, but how much time your attendees devote to your event at a single time.

Micro events work better and when formed with a wider conference strategy, multiple micro events over a period of time will yield better turnouts overall

Session duration is determined by attendee fatigue vs content quality. You can hold a 60 minute session with the right speaker, the right content and in the right conditions such as a micro event. However, those sessions are few and far between. Focus on delivering consistent content within 30 minutes.

If you are running an event that spans multiple hours, this is fine, but understand that your attendees will not sit in front of their computer for hours on end without giving them stimulus. Consider gaps between your sessions for networking, making of cups of tea and "check-in at work" time.

Content variation is key to keeping attendees engaged and connected. Don't overload with death by powerpoint, bring in some variable content, Q&As, Open Microphones, panel discussions or event some entertainment

Build your content around a focus group of attendees. Determine their common interests and built a curriculum that they can follow easily and in manageable chunks of time.

For instance, you might have a group of people interested in water colour painting. Rather than scheduling sessions randomly throughout your art event, put them together in pairs across multiple days that allow those attendees with that interest to really make time for those two sessions on certain days. They will make the effort to attend, because it is created for them

Big does not mean better. Concentrate on what your event means to each of your attendees and make the justification to join your event clear to them.

Think very carefully about on-demand content if your event is live. If your attendees know they can come back and watch the sessions they have missed at a later date, then they are less motivated to join live. You either have to entice them with other things they wouldn't get as a late attendee, or create FOMO so they want to turn up

Get the sessions your attendees cannot afford to miss into their work calendars. Let them download ICS files, or send a meeting invite to them. If your event or the sessions that interest them within your event are in their calendar, they are less likely to be double booked with work. And they are 100 times more likely to join because their calendar will remind them.
Justattend is our platform we created to help run our events and generate more attendee turnout. Using our expertise and experience in running virtual events, we have fine tuned our processes and features so that they are optimized for virtual events.
There are not many platforms out there in the virtual event industry where the owners of the platform run their own conferences. We live our customers lives and we are here to make sure that your virtual event can be the best it can.
If you would like to know when Justattend is launched, please enter your email below. Or check out our features for more information.