When hosting your next virtual event, do you want the same results as your last one? Or do you want to knock it right out of the park so people talk about it for weeks after?
If the answer is yes I want to knock my virtual event out of the park, these online event best practices are for you.
We've only included three so we can really dig into getting the most out of these online event best practices.
Like you, we're aiming for quality over quantity 😉
Online event best practice #1: Hosting
If you search "How to host a virtual event" on Google, you'll get the same regurgitated spiel from copywriters who have researched how other people think you should host a virtual event.
And they've done a good job of getting their post to the first page of Google.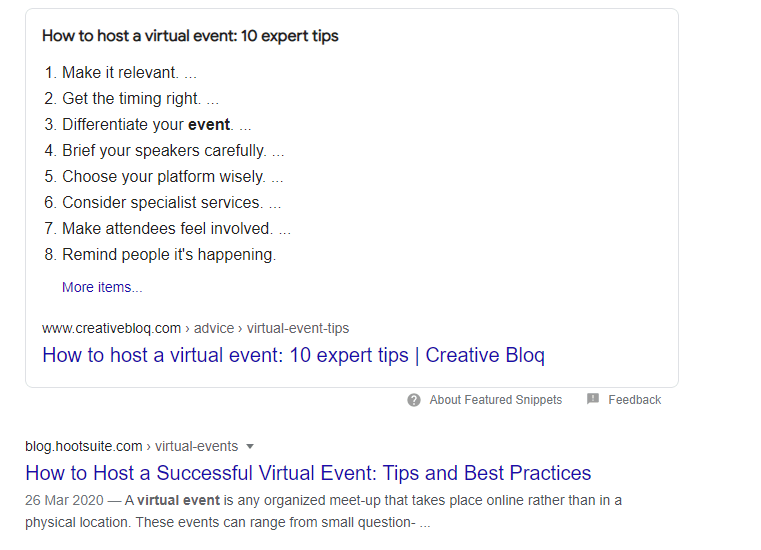 Creative Bloq is a great blog about art and design inspiration. But, all they've done here is ask marketing agencies for their tips. And, as you can see, they're pretty generic.
In reality, you can't write a piece on "How to host a virtual event" until you've hosted loads, failed many times, and finally got it right.
Do consider the tips on that snippet at the top of Google. But, also go much much deeper.
When hosting a virtual event, make sure you check off the following:
Have you got an event concept plan?
When and where will you host your online conference?
Have you targeted your online conference to specific attendee demographics?
Have you decided on your online event format?
Are you taking steps to drive conference attendance through efficient processes?
Does your online event provide value & opportunities for exhibitors?
Have you created a networking strategy?
Where is your backup plan documented?
Will your online event be staffed or unstaffed?
Where will you document your learnings?
Only when you've checked off these ten items can you be sure you're doing all you can to best host a virtual event.
Make sure your online event platform helps you work through these questions. It's one thing using a platform that hosts the online event – but does it take into account all these points?
The best online event platform makes your planning and hosting experience (and life!) as simple as possible.
Online event best practice #2: Presenting
You've got loads of event sign-ups, know the best length for a virtual event, and event registration was a breeze.
So, why'd you go and ruin it by not looking at the camera?
And how about those sound settings? Was that a cat, a dog, or a baby in the background?
The best virtual events have their own dedicated workspace. The biggest brands can hire recording studios or even an agency to host their virtual events.
But, just because you don't have an all singing and dancing budget, you don't need to compromise on presentation quality.
Here are some quick tips to instantly make your virtual event presenting better:
Invest in an HD webcam: if everyone is going to be looking at you, they need to see you clearly. Try out the Logitech C920 for a budget webcam that plugs into your laptop.
2. Look at the camera: sounds easy but even high-earning YouTubers get this wrong. If you look at your screen, you're looking underneath your audience. If you look above your camera, you're looking at your audience's forehead.
3. Spend time on background lighting: when you are the centre of attention, being sat in a dimly-lit box room isn't going to encourage your attendees to stay with you. Like reading a blog, if the background is blurry or sides are littered with adverts, attention spans will wane and people will click away.
4. Spend time on the physical background: Like poor lighting, anything distracting behind you is a red flag when hosting a virtual event. Make sure your room/space contains neutral colours and nothing to lure your attendees attention. If you don't have the time (or creativity), opt for a virtual background instead.
Make sure your virtual event platform offers customisable options for your audience but also for any presenters.
Sure, your attendees will love that they can get alerts for upcoming sessions and chat with peers. But, if they struggle to see or hear you, your online event is doomed from the beginning.
Online event best practice #3: Networking
If your virtual event is longer than a single webinar, think about your networking experience.
Heck, even if your virtual event is a webinar, think about your networking experience.
Ask yourself these questions:
Do you want your attendees waiting around in silence?
If this was an in-person event, what would people be doing?
When a session finishes, do you want your attendees to leave or stay and talk about how great it was?
Adding a networking experience to your online event is what sets the best virtual events apart from mundane webinars (as well as nailing your hosting and presenting skills).
As a minimum, you should allow attendees to chat in session and find each other by their interests.
You can encourage attendee participation through various gamification techniques. This could be points-based or task-oriented to drive competition among attendees. It could be as simple as providing games during wait times and in virtual lobbies.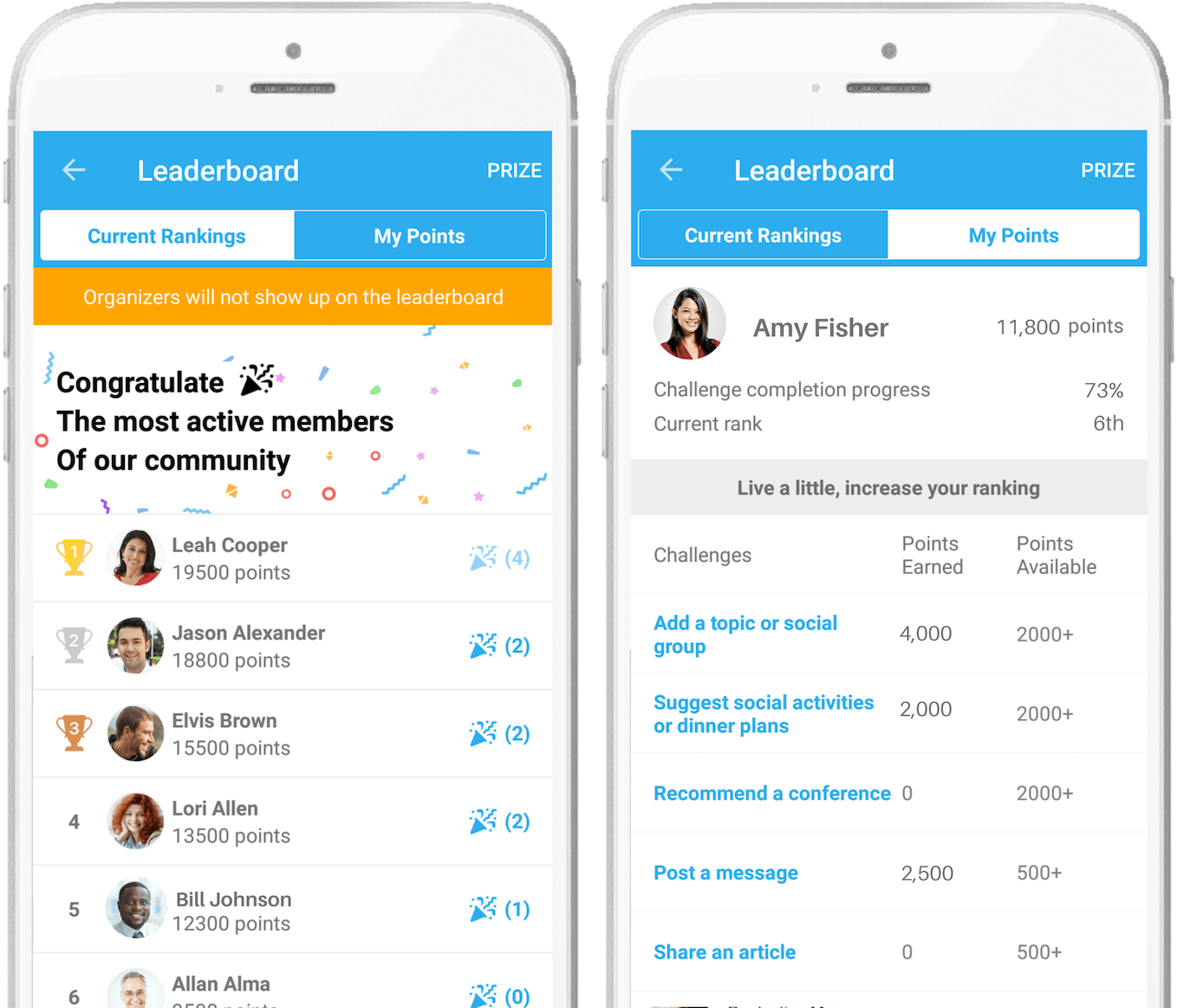 Your networking experience should be part of your event success metrics.
To deem your event a success, the networking experience must have been successful too.
Make sure your virtual event platform takes into consideration the networking experience as well as the hosting and presenting elements.
Justattend is a free online event registration platform that makes these online event best practices easier to complete.
If you need to improve your hosting, presenting, or networking experience before you run your next online event, pop your email in the box below.