Organising a virtual event for the first, second, or even the tenth time can be a daunting process.
When you're already busy worrying about success metrics, event registration, and how to boost attendance, you need a firm guide to direct you down an organisational path.
We've created these 8 do's and don'ts for organising a virtual event (5 do's and 3 don'ts) so you can re-use them every time you're tasked with getting the process started.
1 – Do put your marketing hat on when organising a virtual event
It's a dirty word and nobody likes marketers (this is written by a marketer) but organising a virtual event is a form of marketing.
Like writing a blog post, creating an infographic, or hosting a podcast, it's important to have a research process, project outline, and promotion strategy.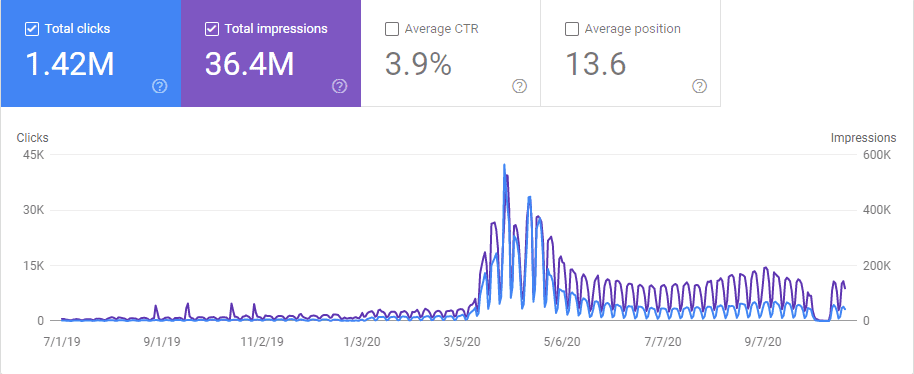 Without the appropriate work around your virtual event, you could end up creating the best event in the world but nobody attends or it's the complete opposite of what your audience needed.
When marketing a virtual event, think about:
Where will you find attendees?
What can you do to guarantee attendance once registered?
How do you keep attendees engaged during the event?
How can you repurpose content from your virtual event?
What happens post-event to keep your audience engaged with your brand?
2- Do brush up on your own presenting & hosting skills
Even if you're not going to be the presenter at your virtual event, it's important to understand the basic skillset involved.
This way you can dictate the quality and help maintain the standards during your event.
Best practices for online events include:
Have a checklist for hosting (event schedule, targeted demographics, event format, networking strategy, backup plan, event staffing, documentation, etc).
Optimise your presentation toolbox (HD webcam, practice looking at the camera, use background lighting, and use neutral background colours).
Know how your attendees will be networking (no networking, one-to-one chat, gamification, side events, lobby games, etc).
3 – Do form a consistent schedule
How many virtual events do you attend that happen at different times of the day? Not many, we'd wager.
Decide on how long your virtual event should be and stick to it.
If you're running a series of events, consistency is crucial to gaining regular attendees.
For example, starting an event at 4 pm every Thursday starts a routine of your attendees setting that time aside each week.
If you change to 3 pm, attendees may have meetings or deadlines that take priority over your event. The time hasn't been set aside. You lose your attendees.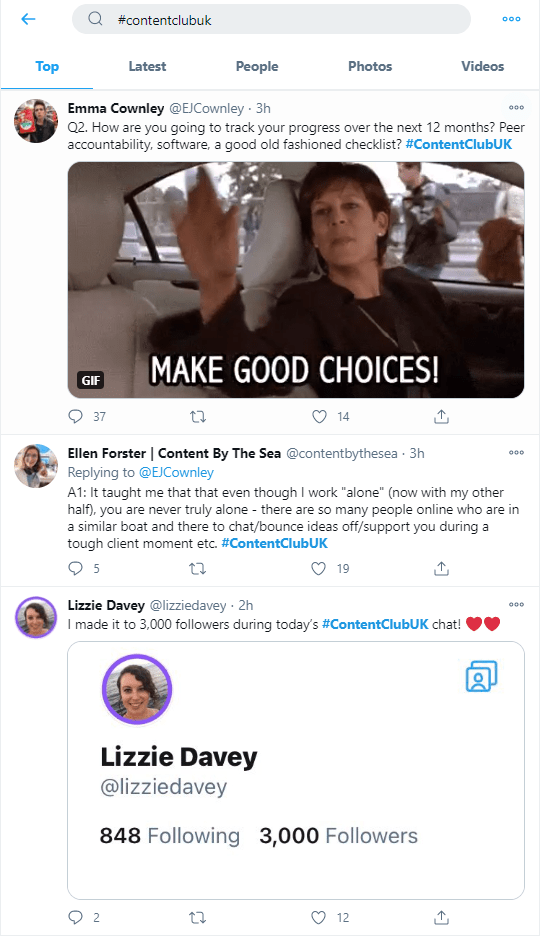 A real-life example is the #ContentClubUK Twitter chat which has been running weekly for over two years.
Members know that every Tuesday at 11am, they can search the hashtag on Twitter and they'll be greeted with three questions about their niche.
4 – Do think about the at-home experience
When you're busy organising a virtual event, it's easy to forget your audience will be at home working.
This means you need to do everything in your power to make sure they find your event worth attending – and worth sticking around at once they've joined.
Sure, this means informative content and an easy sign-up process. But, think about the person too. Think about their environment.
Your attendees have taken a half an hour (or even half a day) break to dedicate to you. But, that doesn't mean they don't have other priorities and things going on around them.
You might go as far as creating a virtual event survival kit.
Again, here you need to tweak the kit contents to your audience.
For example, a group of techies won't appreciate basic items they already have and blog about. But more sought after items they can tweet about and show off will go down a treat.
Here's an example of Cisco's virtual event survival kit from its Webex One conference in late 2020.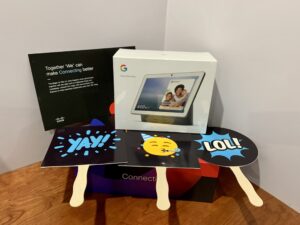 5 – Do ask your audience what they really want
Who are you creating a virtual event for?
Your customers?
Your prospects?
Maybe neither (at the moment) but a group of people who could become both.
So, here's a novel idea…ask those people what they really want from a virtual event.
Remember the marketing hat we mentioned in #1 of this list?
Good marketers know what their audience wants and expects because they talk to their audience.
You can do this in a number of ways:
Conduct surveys using tools like Typeform or Survey Monkey
Interact with customers and followers on social media
Schedule regular or one-off calls when your customer completes onboarding
Interview salespeople and account managers to get secondary feedback when customers aren't available
Track search terms on your website
6 – Don't think organising a virtual event is about the event
It's about the audience!
You may have grasped that by the number of times we've mentioned it in this post 😉
7 – Don't treat a virtual event like a video call
You wouldn't treat an in-person event like a regular meeting. So, don't treat a virtual event like a video call.
Yes, you can use video conferencing platforms (like Microsoft Teams) for hosting the event. But, a virtual event must be more than a video call with a little bit of screen sharing.
With modern features like Together mode, video platforms do provide a wealth of event features.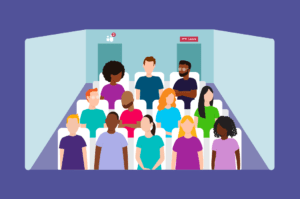 But, you can get sucked into a video call environment and take your eye off the target of your virtual event. Remember those success metrics?
Set a reminder for every half hour during your virtual event to check-in with presenters to make sure you haven't fallen into video call territory.
8 – Don't try to do everything yourself
Justattend exists because we recognise organising a virtual event isn't as seamless as it should be.
By 2021, we've sat through enough bad virtual events to gain insight into what works well and what works…not-so-well.
And we'd like to help you right those wrongs.
From attendee registration to broadcasting, flexible session formats to networking, and even event creation, we're building the event building platform.
And you don't even need to download and learn a new solution.
Justattend works with Microsoft Teams, Zoom, Cisco Webex, YouTube, Restream, Vimeo, and all your favourite video services.
Register for the Early Access Program to start organising virtual events better than your competitors.