Before you start promoting your next virtual event, it's important you don't follow the same process that didn't get your very far last time around.
If your marketing team is under pressure to boost attendance to your virtual event, this post is for you.
Unlike other posts that recycle generic information and list out things you've probably already tried, this post gives you step by step instructions to drive tangible results.
Included in this post:
1 – Invite your email list
Your email list is the only marketing channel you truly own.
In his book, Content Chemistry, Andy Crestodina, explains the importance of leveraging marketing channels you own.
Unlike social media, where you can be given less priority to accounts with more regular tweets or posts with higher engagement, there is little that can go wrong with your email subscriber list.
Of course, you do need to spend time crafting the email itself. It must be as compelling as the reason they joined your email list in the first place.
Here are the five steps you can take to make your email as "openable" as possible:
Write a subject line your audience cannot resist – no more boring "We're running an event".
Include a knockout graphic – even if your event isn't about visuals and graphics, you need to capture your reader's attention in the moment.
Explain what is happening and why the reader needs to attend – not why they might want to attend, but why they must.
Include one clear call to action – sign me up here, not sign up over here, there, and everywhere.
Resend your email to everyone who didn't open it the first time – they might not hate you; people miss emails all the time.
At the end of the day, your virtual event is your product. And you're selling your product.
It needs to be compelling. And who better to sell to than people who have already opted into your emails?
This makes your email list the most valuable tool in your virtual event arsenal.
So, you should no longer rely on social media and organic traffic.
You only have to look back as far as October 2020, when Google wiped off around 1.3 billion pages from its index.
Businesses who relied on organic traffic (searches from Google and other search engines), suffered from a sudden disappearance of regular and predictable traffic.
Not something you want to have to explain to your boss.
Did You Know? With Justattend, you can use your existing mailing list and allow previous attendees to register with one single click.
2 – Promote on social media
Yes, you've probably heard this many many times but stick with us.
We said above that your virtual event is your product. Whatever you're using to drive people to your virtual event is your content.
As with any content you create, it should come with an associated content promotion strategy.
Aside from crafting posts across your social media accounts (Twitter, LinkedIn, Facebook, Instagram, and yes even TikTok!), ask who could expand my reach?
Here are some starting points:
Leverage the speakers and brands you have attending your virtual event. It's likely these people have their own following unique to your brand's following so by promoting themselves at a speaking gig, they're also promoting your virtual event.
Ask influencers, experts, and friends of your brand to promote your event. Keep a list (just a quick spreadsheet) of people you can reach out to every time you run a virtual event and ask them to promote it.
Update that list every time someone new promotes your virtual event without asking. Other than seeing their post on LinkedIn or Twitter, here's a neat way to see who's share your content (if they don't tag you):
Type in your blog or site URL into the search bar on Twitter.
You can search by top or latest to find out who got the best engagement and who the latest person to share your content is.
You can either search your whole domain or the full URL of your latest piece of content.
Add these people to your list and ask them to share your next virtual event.
3 – Promote your virtual event in high traffic blog posts
You might think you need to create a new blog post each time you run a virtual event.
This is both time-consuming and time-based. If you're marketing time is spent on activities that are both time-consuming and time-based, it needs to be the biggest thing you're working on all year.
If that's true for your virtual event, great.
If it's not, why not leverage the existing traffic your high traffic blog posts are already getting?
Here's how to find your highest-traffic blog posts. You'll need your blog or site to be set up with Google Analytics before you go any further.
Navigate to Behavior then click Site Content.
Choose All Pages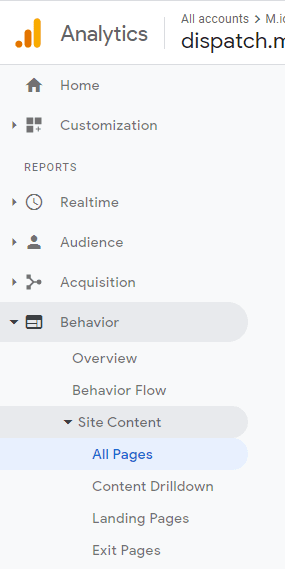 3. Identify which of your highest traffic blog posts are relevant to your virtual event.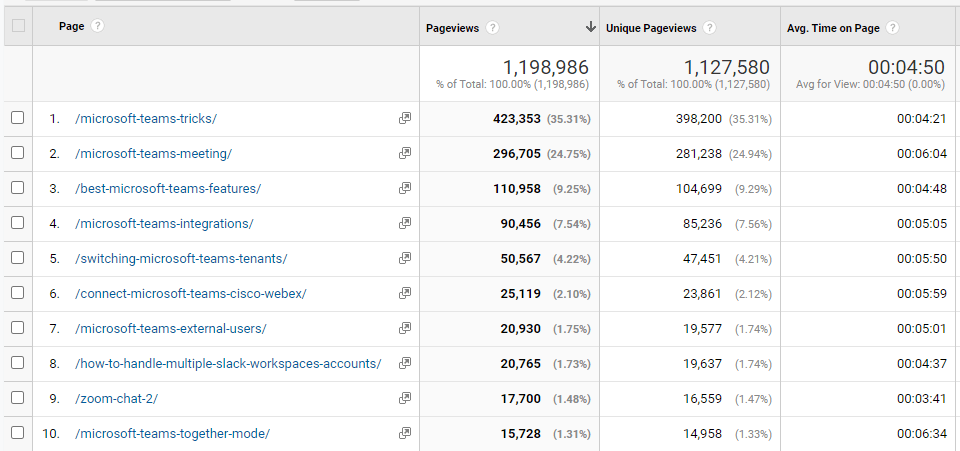 For example, if you were running a Microsoft Teams event, like Commsverse, you would choose the top seven posts in the screenshot above because they are about Microsoft Teams.
4. Once you know which posts you will use, either add a CTA (call to action) at the end or schedule a pop up to appear based on the average time a reader spends on your pages. You can see this in the Google Analytics screenshot above too.
For the creation of the pop-up, choose what feels most comfortable to use and looks most natural on your site. One example of such a tool is HelloBar but play around with what feels best for your audience.
4 – Drive virality
Once someone has signed up to your virtual event, what happens next?
If your current process is nothing until the day of the event, you could be doing more.
When the registration process is complete and you've gained a new attendee, this is the best time to leverage their audience.
Instead of a Thank You page that confirms their sign-up, flash up a screen that asks your new attendee to share the event on social media.
JustGiving uses this tactic to great effect and cites the higher the number of shares, the higher the fundraising total.
In the example below, you'll see several CTAs to share this fundraising page.
In fact, there are four buttons to share the page compared to one button to donate.
5 – Make your virtual event joining experience as simple as possible
While there are lots of fancy ways you can set up joining a virtual event, the best option is the simplest one.
There's no point in putting efforts into gaining registrants if it's a chore for them to join your virtual event.
Make sure you capture your event attendance without impacting your attendee joining experience.
How do you achieve this? Well, that's the million-dollar question.
But one Justattend is trying to solve.
If you plan on running your next virtual event on Microsoft Teams, Zoom, Google Meet, or Cisco Webex, check out all the features Justattend will introduce to your joining experience:
Event Hub
Auto Register
Dynamic Registration
Platform Agnostic
Virtual Lobby
Attendee Tracking
Multi Session
Agenda Builder
Watch Party
6 – Once they've joined one virtual event, be consistent
Even if your conference attendance was low last time around, make sure you capture their details and invite them to your next virtual event.
Be consistent with your invite schedule and regular reminders.
If your virtual events are recurring, like a monthly webinar, make sure they start at the same time so your attendees have that time free each month.
You can use Justattend features like Attendee Networking and Gamification to keep your attendees in touch with you and with each other.
You can use Calendar Sync to make sure your virtual event is in whatever calendar your attendee uses.
We're really excited about the features Justattend will bring to the virtual event experience and can't wait to help you out.
To be the first to know when Justattend launches, sign up to the waitlist below!